OUR SERVICES: INSTALLATION AND MAINTENANCE
EQUIPMENT INSTALLATION
Three options to install your equipment.
1 / Complete assembly by Chabeauti teams
Our teams take care of the entire project until bringing the equipment into operation.
2 / Self-assembly by the breeder
The breeder wants to install himself his equipment. Chabeauti will provide the assembly plans and tutorials necessary for this autonomy.
3 / Pre-assembly by Chabeauti
Assembly of the baskets at the factory then delivery, the farmer will take care of setting up the cages on their feet according to the defined plan.
* For options 2 and 3 Chabeauti may (on request) provide technical assistance to assist you in this phase of assembly.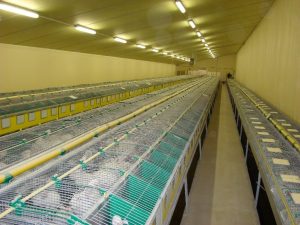 HARDWARE MAINTENANCE
Chabeauti has made the quality of its materials a "battle horse" against its various competitors.
However, the mechanical assemblies remain at the mercy of certain hazards and it is essential to be able to count on the rapid return to service of the installations in case of failure.
Thus, we put at your disposal our know-how and our skills for preventive or curative maintenance on our equipment.